Create an Invisible Watermark in Photoshop
Invisible Watermark Tutorial

I am not the first one to perform this Watermarking method, but I felt a tutorial designed for photographers was a good idea.
Open Photoshop. Select File\New. Create new image 2px by 2px like below.
Then using a 1px pencil or brush make the pattern like this (you will have to be zoomed in to "fit on screen" so it is big)
Then Select Edit\Define Pattern and name it whatever you want. This pattern will be available for use from now on. This is the only time you will ever perform this step.
Before going any further in this process, you must have all of your photo sharpening, manipulations, and resizing completed first…
Duplicate your Picture Layer (in my case it is the background layer), ensuring that you lock transparency (checkered square just above watermark layer). Get into this habit just in case you have transparent layers for digital art, etc. I named it watermark layer. Paint the whole thing black. Then select exclusion.
Then Select All (ctrl+a), then select edit\fill. Select pattern like below in exclusion mode and preserve transparency should be locked in.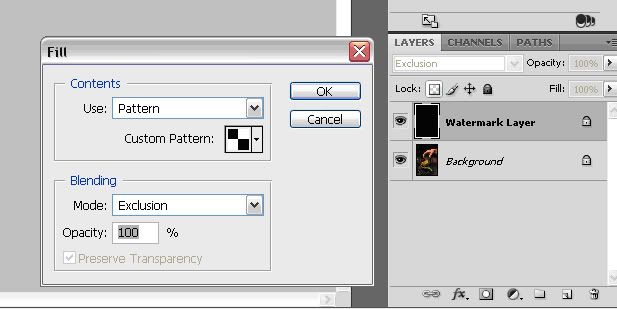 It will look kinda strange after this.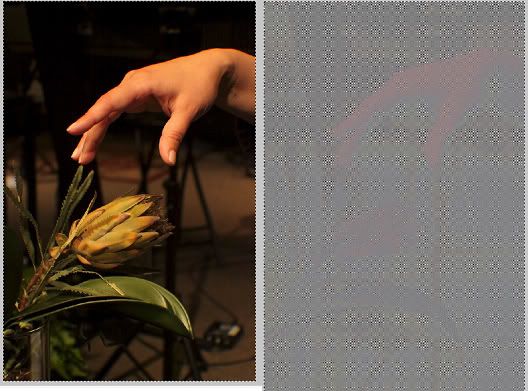 Then select text tool (it will create new layer). Select white or black for your typing, I use the color most opposite with my picture. You can also do this with a watermark picture layer, instead of just text.
Drag text layer below the watermark layer just above the picture (background on mine) layer. Duplicate background layer. The duplicate should be on top of the other layers. I set mine around 90%, but you can adjust the duplicate to make more or less show through. It all depends on the photo and how much quality you want to keep. You will loose just a little quality in this technique.
Save your photo as a JPEG (you don't usually share photoshop files online). Right click picture and select open in internet explorer (WILL NOT SEE IT WORK ON FIREFOX, but it is still there). Highlight photo in internet explorer and you must be seeing the photo zoomed in to see the pixels. You should now see your watermark. You will have to almost destroy the photo to get watermark out of the photo.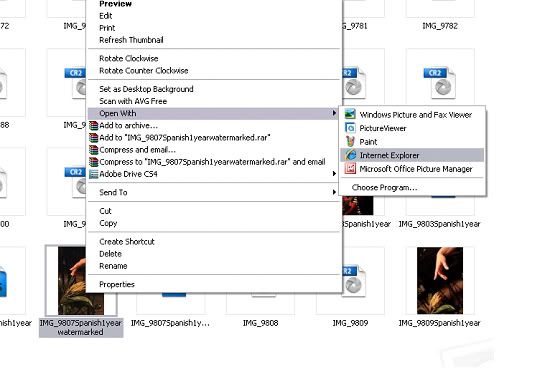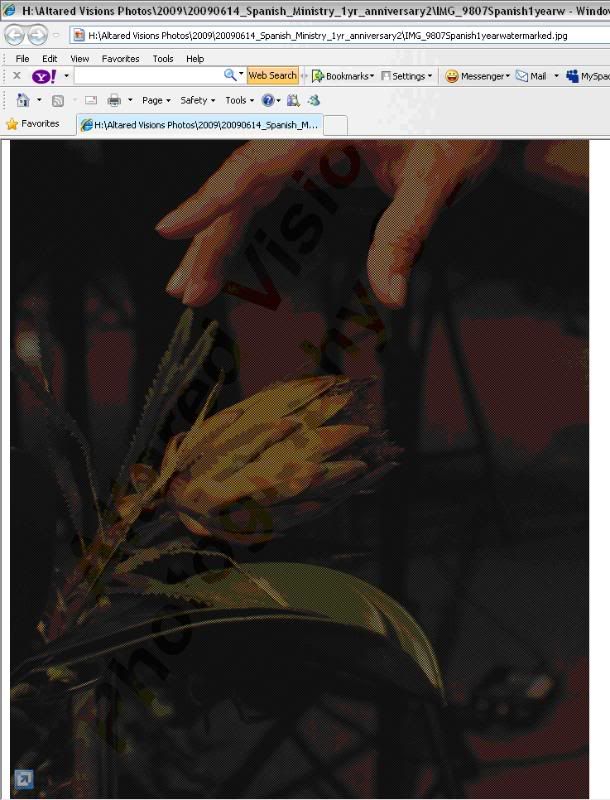 Click this photo below to see this effect (must be in internet explorer because it is the only web browser that will see it this way. It works in programs, but only the ie web browser that I am aware of)
UPDATE AS OF 1/25/2010 BELOW
I posted my blog in a forum and was asked alot of questions concerning the visibility of the watermark. I will eventually post some screen shots to explain this, but until that time, this is what I told them:
I just figured out how to read the hidden watermark through trial and error.

If you create a fill layer in Photoshop with the checkerboard pattern and the layer type being overlay, soft light difference, or exclusion, I could really see the writing.